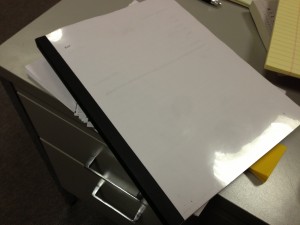 Greetings! That picture is a bound photocopy of my new novel Raw: A Love Story that's coming out in December 2013. That's right. The folks at Grove Atlantic have pushed the publication date forward by popular demand.
Here's a taste of what the book's about:
Reality TV hunk and People magazine's "sexiest man alive", Sepp Gregory goes on a book tour to promote his debut novel, a thinly veiled autobiography. Not that Sepp has actually read the book, he doesn't have to, he lived it! The novel becomes a sensation, a New York Times bestseller, and, surprisingly, it even gets rave reviews from serious critics. Aside from rising critic Harriet Post, that is.
Not shy about wielding a hatchet, Harriet hears the host of her favorite, high-brow, radio show gush about Sepp's abdominal muscles on-air and fears the end of civilization is upon us. She takes matters into her own hands and sets off to reveal the truth behind the bestseller and to show Sepp as the fraud he really is. But then Harriet reads Totally Reality, Sepp's novel, and it's surprisingly great. Now she needs to find Sepp's ghostwriter and find out why he's wasting his talent.
A road trip romp ensues, from the intellectual enclaves of San Francisco to the Playboy Mansion and beyond where all kinds of misunderstandings, mayhem, and murder arise, resulting in an unlikely and humorous sexual odyssey.