Once again I find myself spending the autumn in a small college in the American south.  This time I'm not living amidst the ruins of a once great tobacco empire known as Winston-Salem, North Carolina, but am in the small burg of Lynchburg, Virginia.   Lynchburg, as you may or may not know, is the home of Jerry Fallwell's Liberty University, an evangelical Christian college who's mission is "to spread the teachings of Christ across the country whether we need it or not."  Actually, the real motto of Liberty University is "Knowledge Aflame" — which I guess means they plan on burning a lot of books.   My oeuvre, I'm proud to say, would probably be the first to go.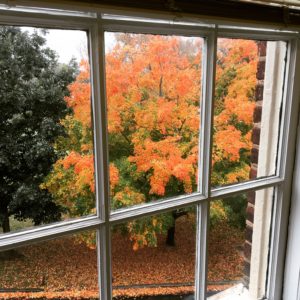 I'm not at Liberty University, I'm actually quite honored to be the "Pearl S. Buck Writer-in-Residence" at Randolph College.  A small, liberal arts college that has a great English department.  I'm teaching a master class on nonfiction and spending a lot of time jamming on my new novel.  That's right!  Fiction.  From me. If it turns out the way I'm hoping, then I imagine Rev. Falwell would be the first to throw it on the fire.
But aside from eating biscuits and drinking bourbon like a proper southern writer (which I am not, I am an Angeleno posing as a southern writer) there's lots going on.  The film adaptation of SALTY is being edited in London, word is that the film will hit theaters in the summer.  I believe Grove is going to put out a tie-in version but we're trying to figure that out now.  It'd be cool to see a copy of the book with a picture of Antonio Banderas on the cover.  At least I think so.
And I'm working on a new nonfiction book which, for now, I have to keep top secret.
I'm very happy that Paul Beatty's brilliant satire The Sellout won the Man Booker Prize.  It's about time comedic novels got some respect!  Right on.