Fall 2011 Update
My maiden voyage into the world of truth-telling veracity-spewing non-fiction narrative reportage has a cover!   And a pub date.   You'll find copies of this attractive little number in bookstores near you on April 3, 2012.   If you like my fiction, you'll love my non-fiction.  How's that for a slogan?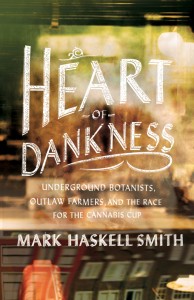 To promote the new book I will be making some author-type public appearances.  I know I'll be at the Los Angeles Public Library's ALOUD program on April 17th and at the Los Angeles Festival of Books April 21st & 22nd.   But that's all the info I have right now and even that's sketchy.  I'll post a real schedule in 2012 when I have, you know, a publicist working on it.  But I'm planning to go to the Bay Area and, possibly, Denver.
If you want me to come visit your town, drop me an email and I'll forward it to my publisher.   Who knows?  You could get lucky!
Sorry I haven't been writing updates lately.  I've been busy.   I finished Heart of Dankness.   I've been teaching.   I wrote a book review.  And I did some gardening.