Fans of my novel Baked will remember that "Elephant Crush" was the name of the potent cannabis strain that the protagonist took to the Cannabis Cup in Amsterdam.   In a weird  fiction meets reality kind of moment, Bay Area reporter and East Bay Express "Legalization Nation" columnist David Downs discovered a strain by the same name at the Waterfall Wellness medical marijuana dispensary in San Francisco.    Even stranger, it seems the underground botanist behind this actually tried to replicate the strain in the book and, even stranger still, succeeded!
I could not be more flattered and thrilled.    And I can't wait to taste it!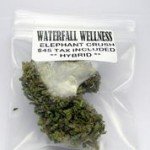 Read David Downs' original story here.
The LA Times Jacket Copy covered the story here.