I'm living in "the South."  Doing a visiting professor gig at the University of North Carolina School of Arts in Winston-Salem. That could explain why I haven't posted in a while; busy finding a place to live, buying a bicycle, getting my classes up and running.  Or it could be the bourbon.  I even had some moonshine brewed by a "neighbor" of a guy who owns an apple orchard up in the Blue Ridge mountains.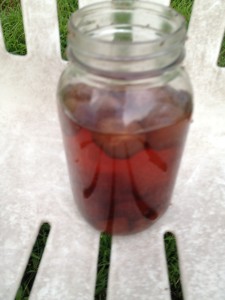 The moonshine was surprisingly smooth and tasty.  And it seemed to kill any insect that landed on the jar.  Evidence, apparently, of high-octane home brew.
I've also been waiting until we had a pub date — June 2015 — and a cover for Naked at Lunch: A Reluctant Nudist's Adventures in the Clothing Optional World to dazzle you with.  But because of the nature of the jacket… well… you're just going to have to wait.   But I do have a couple blurbs I can share.
"Hilarious, absorbing  and  –  to adapt Blake's  comment on Milton  – a sustained  celebration  of  the invention of clothing." — Geoff Dyer
"Naked at Lunch is a total joy. Mark Haskell Smith is a fine reporter, a trenchant cultural observer and a spectacular writer. He's the best kind of participatory journalist; one who stands proudly with his subjects even as he stands apart from them. The naked cruise chapter is a tour de force and a worthy addition to the canon of great cruise writing. Even if you've never been nude in your life and have no plans to be in the future, this book will thrill you with its hilarious and outrageous stories and move you with its essential humanity."  — Meghan Daum, author of The Unspeakable: And Other Subjects of Discussion
"A strangely compelling, riotously funny traipse through the world of nudism. Mark Haskell Smith is a worthy heir to the George Plimpton school of journalism. He's not there to mock; he's there to experience humanity in all its full-monty complexity."  —J. Maarten Troost, author of The Sex Lives of Cannibals
"Mark Haskell Smith turns out to be an ideally curious point man into the bizarre and complicated world of modern-day nudism. If there's a funnier, more interesting book about being naked, I'd very much like to read it." — Tom Bissell author of Magic Hours
"Naked at Lunch is insightful, brave and inspiring. With extraordinary honesty and humor, Haskell Smith faces down social and personal inhibitions to experience both a fascinating subculture and a moving personal transformation." — Jillian Lauren, author of the NY Times bestseller Some Girls: My Life in a Harem.