I have been head down, nose-to-grindstone, flat-out pedal-to-the-metal cranking on Naked at Lunch.  For your enjoyment…. here's the first paragraph.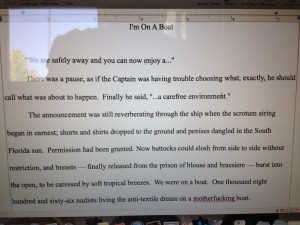 I should have a finished first draft turned in to my editor by the end of the week.  Then I will do something to celebrate.  Maybe eat spicy noodles.
In addition to that, I got the happy news that Heart of Dankness had been chosen by the Daily Beast as one of the "10 Best Books on Pot."  You can read the piece here.
And in movie news, Salty has been optioned by Simon West.   I wrote the script for Simon a few years ago (in exchange for a bottle of Patron tequila) and he's somehow managed to raise the funds to make the film.  They've begun casting and I'll keep you posted.   I'm really excited about this because I think Simon will make a fucking great version of the story.  Turk Henry lives!
With a draft of my book turned in, I will endeavor to enjoy Negroni week to the fullest.