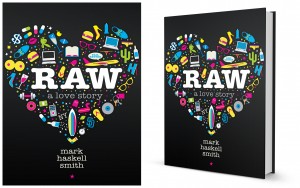 Here's a look at the cover of RAW – A Love Story coming out in December 2013.   The design (which I love) was done by Dog and Pony, a design firm based in Amsterdam.
Hot and ebullient, hilarious and riveting.  Smith pulls the pants off reality television and America's "serious" literary culture, and that's just the metaphorical nakedness.  Who knew a book about the difficulty of sustaining deeply felt emotion could be so much fun?  Or that a penis on YouTube might sing Lionel Richie?  Hair-raising and essential reading.
– Sara Levine, author of Treasure Island!!!