I've been traveling.  It's like the perk of being a writer.  You write a book and people want you to come talk about how you wrote the thing. Where do your ideas come from? They're curious, I guess.  And, frankly, I'm curious too.  I'd never been to Greece or Bulgaria or Romania before.  So when I was invited aboard the Royal Clipper as a guest of Bare Necessities — the company responsible for the "Big Nude Boat" and other nudist "nakations" that I wrote about in Naked at Lunch — I couldn't say no.  I'm glad I didn't.  It was an amazing trip and the Bare Necessities crew were fantastic hosts.  I gave a talk and hosted a workshop, but mostly we just bounced around the Aegean and Black Seas eating feta cheese and drinking massive amounts of delicious Greek wine.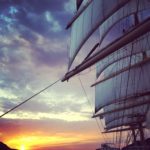 After Greece I was a guest of the Festival International du Noir in Frontignan, France.  Frontignan is a lovely seaside town near Montpellier.   They make a spicy octopus pie in the nearby town of Sete that I highly recommend.  But mostly a festival of noir is a chance for writers (and their publishers and translators and press attaché) and fans to get together and consume massive amounts of delicious French wine.



From the south of France we went to Catalunya, where I set up shop in my new favorite office, hung out with close friends that we rarely get to see, and consumed massive amounts of delicious Spanish wine.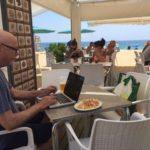 For the rest of the summer I'll be back in Los Angeles.  Working on a new novel in the hope that someone invites me to come talk about it when it's done.